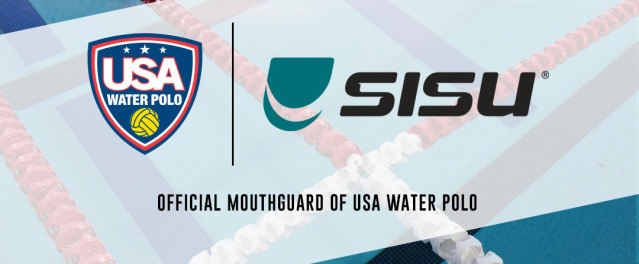 via USA Water Polo Press Release – February 1, 2018
SISU Mouthguards has been named the official mouthguard of USA Water Polo, bringing their signature Diffusix technology to the pool and the national governing body for the sport of water polo.
"We are excited about our new partnership with SISU," said Katherine Schmidt, director of marketing for USA Water Polo. "SISU is known for setting new standards for innovation and the superior design and functionality of the SISU mouthguard is the perfect fit for our athletes of all ages."

"We are very honored and proud to be partnering up with USA Water Polo, a sport that is putting extreme demands on its athletes," said Sassa Akervall, the CEO for SISU. "This goes hand in hand with the SISU Mouthguard, which over and over again has proven to be the safest mouthguard when put to the test. We are looking forward to a successful partnership over the coming years, with many saved smiles as a result."

SISU Mouthguards are 1.6 mm thin protective dental shields, made from a non-compressible, perforated, remoldable thermal polymer. Powered by Diffusix technology, SISU Mouthguards deflect impact forces and absorb shock impact, which provides ultimate protection and comfort.

About USA Water Polo
USA Water Polo, Inc., is the national governing body for water polo in America, overseeing our United States Olympic program as well as 20 different championship events annually, such as Junior Olympics and Masters National Championships. With more than 45,000 members, USAWP also is the sanctioning authority for more than 500 member clubs and more than 400 tournaments nationwide. USAWP is committed to the development of the sport throughout the U.S., fostering grass-roots expansion while providing a national system of affiliated clubs, certified coaches, and officials. For more information, visit www.usawaterpolo.org.