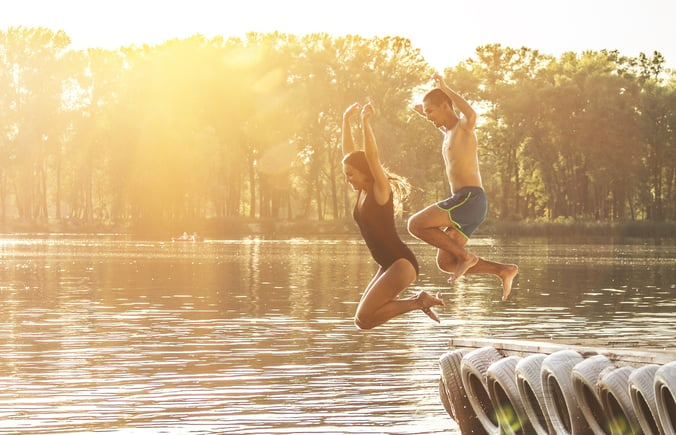 Getting outside this summer should be a top priority as the temperatures start to rise and we begin to see more and more sunshine filled days. The joyous days of summer give you a reason to escape the downward spiral of social media and create long lasting memories with those who matter most.
Recreation Ideas
Hopefully, you have been staying fit in the off-season so that getting back on the summer recreating track isn't too hard. The options for summertime fun are nearly endless. If there is a new sport that you have always wanted to try, each summer is a new opportunity to do so. The following are some of our favorite summertime activities:
Hiking

Swimming

Camping

Kayaking

Rock climbing

Sightseeing
Just like any other time of the year, outdoor adventures and sports come with a certain amount of risk. Make sure that you and your adventure buddies are prepared to handle whatever nature may throw your way with our outdoor safety tips for summer.
Natural Disasters
Being informed about the kind of weather that you will encounter on your outdoor adventures can help to prevent possible dangerous incidents from occurring. Being weather wise is more than just knowing whether or not to pack a rain jacket.
Forest Fires
Stay up to date by tracking the active fires in the areas that you tend to recreate in and explore. Often times there will be little sign of smoke in the air or news coverage about wilderness areas that have recently experienced a wildfire. Whether you are intending on going on a day hike or a multi-day backpacking trip, the dangers of a fast spreading wildfire are high in the summer months.
Flash Floods
Flash floods are appropriately named because they are commonly not anticipated. When recreating in canyons and high walled areas, it is wise to be hyper aware of rain clouds and incoming storms. Flash floods can occur within minutes and the force behind the moving water has the ability to wash away anything in its path. They start and dwindle out within minutes leaving behind a path of destruction and mud. Before heading out into canyonlands, make sure to let others know where you are headed or engage your GPS device so that you can be easily found in the event of a flash flood. You can keep your ankles protected from potential snake bites while exploring the desert and a GPS device when purchasing the new technological smart boots.
Lightning Storms
When planning a mountain summiting trip this summer, you may need to be flexible in your dates of ascent. Lightning strikes on high mountain tops were responsible for 313 deaths in the United States between the years of 2006 and 2015. Most lightning storms happen in the midafternoon, the same time that most hikers reach the summit of the mountains they have set out to conquer that day. From higher elevations it is usually easy to see storm clouds coming in. Don't let your ego get in the way and make the smart choice to start an early decent if you feel that you may be putting yourself at risk.
First Aid
The first line of defense against possible injury is two-fold: pre-planning and risk management. For those engaging in high-impact sports, make sure to wear a helmet and a mouthguard to prepare for any unforeseen dangers that may be waiting to cause potential harm. Are you and the kids doing a lot of bike riding? Don't forget your helmets, especially if you're in California. This is one state where helmets are mandatory for kids and strongly suggested for adults, with good reason. If you have the time to invest in taking a wilderness first aid course, it could potentially save a life. At the bare minimum, know how to attend to the following if you intend on spending a significant amount of time outdoors this summer.
Heat stroke and dehydration

Minor cuts and scrapes

CPR

Bug bites and snake strikes
More often than not, only minor injuries occur when taking full advantage of summertime fun, although accidents do occur. Make sure that you are adequately prepared with our outdoor recreation safety tips while enjoying the sunshine and warmer temperatures.