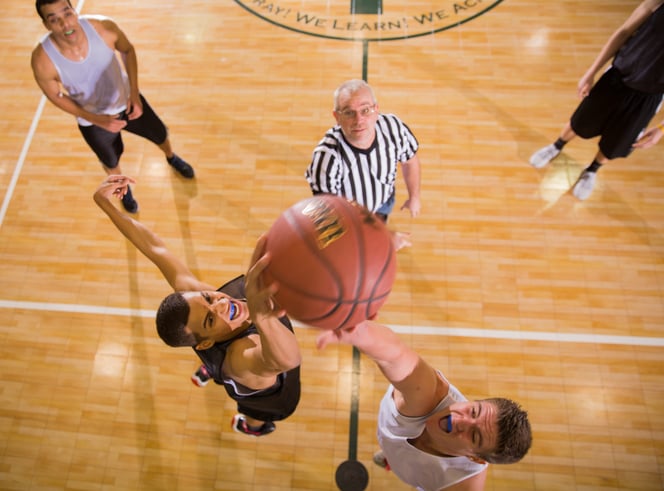 Basketball causes the highest rates of dental injury. Yet, despite one in three players experiencing serious damage to their teeth, basketball is not even on the radar for popular mouthguard use.
Multiple studies, including one from 2007, have found that basketball has the highest incidence of dental injury, with over one third of high school injuries occurring to the head or face. This is befuddling, considering basketball still does not mandate mouth guards for its players. We've touched on this topic before while discussing how to choose a basketball mouthguard, and the data shows that lack of dental protection in this particular sport is problematic for athletes.
In the past, basketball players have been resistant to the use of mouthguards, citing obstruction to airways and problems communicating or drinking as their reasons to avoid a guard. Because basketball is not technically a contact sport, it has, for many players, been a precaution not worth these obstacles -since guard use is not reinforced by the governing body of the sport.
Luckily, there's an air of change on the rise. More NBA players are responding to awareness about dental injuries in basketball by choosing to wear mouthguards and inspiring future generations to follow their lead. This is a great thing, although some work admittedly remains to be done with regards to education about guard use in basketball.
LeBron James can often be spotted chewing on his guard nervously during games, not to mention the habits of his ear-hanging, sock storing, cross-court-guard-flinging peers. We cannot overemphasize the importance of sanitary storage routines, but before tackling those bad habits, it's most important to first promote dental protection for this demographic of athletes that so need it.
The most recent step taken in this direction is the commendable partnership between Shock Doctor and the National Basketball Association. This month, Shock Doctor became the official mouthguard of the NBA to promote more widespread use of guards among all basketball players. Shock Doctor will also be working with the USA Youth Basketball Program in order to educate young players about the benefits of wearing mouthguards.
This is a huge step for a sport that has consistently resisted regulating dental protection for its athletes; it is a hopeful indication that more basketball institutions follow the lead of the NBA to promote mouthguards on all levels of skill and age.
"We are excited to see the rise in basketball safety awareness and commitment from the athletic equipment industry to create stronger safety compliance on the court."said Rita Shelley, Director of Marketing at SISU Mouth Guards. "SISU will also continue its commitment to basketball by educating players and promoting safety awareness."