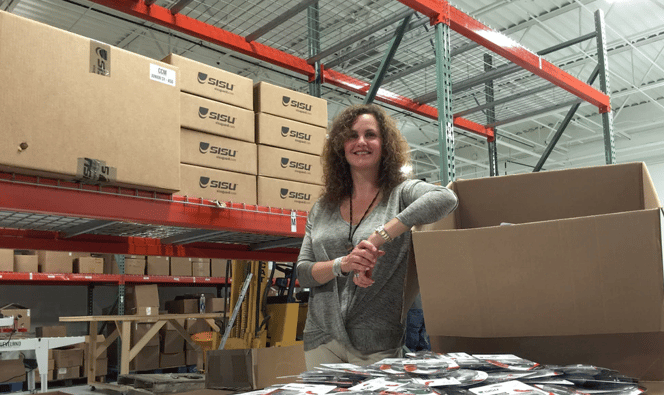 SALINE, MI, August 17, 2016 – Inc. magazine today ranked Akervall Technologies, Inc. NO. 1130 on its 35th annual Inc. 5000, the most prestigious ranking of the nation's fastest-growing private companies. The list represents a unique look at the most successful companies within the American economy's most dynamic segment— its independent small businesses.
Started in 1982, this prestigious list of the nation's most successful private companies has become the hallmark of entrepreneurial success. Companies such as Microsoft, Dell, Domino's Pizza, Pandora, Timberland, LinkedIn, Yelp, Zillow, and many other well-known names gained their first national exposure as honorees of the Inc. 5000. The 2016 Inc. 5000, unveiled online at Inc.com.
"We are extremely proud of this amazing honor," said Sassa Akervall, CEO of Akervall Technologies - makers of SISU Mouthguard and SOVA Night Guard, "and on a personal note, I'm so proud of my team who are the highest of achievers and who all are determined to be the best in our business."
The Inc. 5000's aggregate revenue is $200 billion, and the companies on the list collectively generated 640,000 jobs over the past three years, or about 8% of all jobs created in the entire economy during that period. Akervall's revenue grew at a staggering 342% and the company added 16 new jobs over a three-year span.
"The Inc. 5000 list stands out where it really counts," says Inc. President and Editor-In-Chief Eric Schurenberg. "It honors real achievement by a founder or a team of them. No one makes the Inc. 5000 without building something great – usually from scratch. That's one of the hardest things to do in business, as every company founder knows. But without it, free enterprise fails."
The annual Inc. 5000 event honoring all the companies on the list will be held from October 18 through 20, in San Antonio, TX.
About Inc. Media:
Founded in 1979 and acquired in 2005 by Mansueto Ventures, Inc. is the only major brand dedicated exclusively to owners and managers of growing private companies, with the aim to deliver real solutions for today's innovative company builders. Winner of the National Magazine Award for General Excellence in both 2014 and 2012. Total monthly audience reach for the brand has grown significantly from 2,000,000 in 2010 to over 15,000,000 today. For more information, visit www.inc.com.
About Akervall Technologies, Inc.:
Akervall Technologies, Inc (ATI) are the makers of SISU Sports Mouth Guard and SOVA Night Grinding Guard. Headquartered in Saline, MI, ATI is comprised of a management core, manufacturing facility and R&D division, where a dedicated team of world-renowned scientists works tirelessly to invent new technologies in mouth protection. The company was awarded the NSF Grant and the Advanced Technologies Grant at Accelerate Michigan Competition in both 2015 and 2016. Named one of Michigan's Top 50 companies to Watch in 2014, Akervall is committed to bringing new sports protective gear and equipment to market. For more info, visit: www.sisuguard.com or www.sovanightguard.com