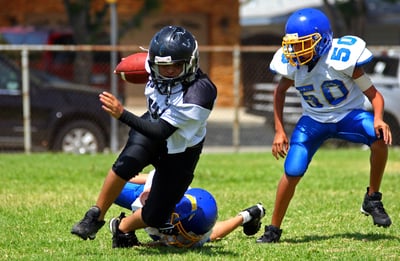 I often say that we are the only people in the world to get THAT excited about mouthguards. And with moms of athletes at the helm of this company, we've always been attached at the hip to athletic safety.
Even when the truth of mouthguards and concussions was not a popular side of the argument to be on, even when it hurt our brand to say "There is no scientific evidence supporting the claim that mouthguards protect against concussions," we still maintained that we will never sacrifice scientific validity of facts for the sake of advertising gimmicks.
It really is shameful, in my opinion, to leverage something so important as the safety of our children playing sports out there for commercial gain. Perhaps the claims of safety come from a place of ignorance or lack of scientifically supported data (however that works), but by now, enough reputable organizations threw in their weight behind the argument.
The National Operating Committee on Standards for Athletic Equipment (NOCSAE) is flat out outraged by the claims. The FTC has previously cracked down on companies making these false claims. The governing bodies for various sports stand behind the argument that there is no sufficient evidence that mouthguards protect against concussions. American Dental Association supports this stand. National Academies of Sciences report found no substantial evidence that mouth guards and even headgear can protect against concussion.


Therefore, I am extremely excited to see that the U.S. Senate has taken a special interest in the false advertising claims that potentially jeopardize the safety of our children. U.S. Senator Tom Udall called on the Federal Trade Commission (FTC) to crack down on deceptive and dangerous claims by manufacturers that their youth sports gear can prevent head injuries.
Senator Udall has always been a strong supporter of truth in advertising and led significant efforts to prevent false advertising claims by manufacturers that can jeopardize the safety of our athletes who use over marketed sports equipment.
As mentioned in a press release from the U.S Senate: "A supporter of youth sports and an advocate for consumer protection since he served as New Mexico's attorney general, Udall has long worked to ensure parents, coaches and athletes have the information they need to make well-informed decisions about safety.
Last year, he called on the FTC to investigate potentially misleading claims used to sell soccer headgear, and he successfully included provisions in the omnibus appropriations measure to help protect youth athletes from the dangers of sports-related traumatic brain injury."
"Concussion experts warn this is dangerous - it puts kids at greater risk of injury, including permanent brain damage from second impact syndrome," Udall said in his press release on Tuesday.
Yet, concussion is still a mystery to all of us and in our desperate efforts to keep our children safe, we tend to grasp at straws to give them every extra ounce of protection. As the Director of Marketing for SISU Guard, a person in charge of SISU's communication strategy who is deeply committed to truth in advertising, I want to personally thank Senator Udall for standing up for what is important, his commitment to athletic safety.
As a one of the leaders of our nation and a representative of the people, Senator Udall has a great opportunity to create better awareness of these dangerous practices and to educate parents, coaches and players, so that our children can continue play the sports they love in a safe environment.