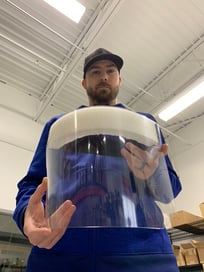 Our most popular brand is the SISU Mouthguard. A completely unique, and innovative customfit and remoldable mouthguard that flew off the shelves as soon as it hit the market. That was over 10 years ago, and since then our SISU line has expanded into many different products and colors grown into an internationally recognized brand. A few years after the launch of SISU, we introduced the SOVA Nightguard for grinding and then later the IntuGuard – a customizable guard for patients undergoing endoscopic or transoral surgeries, which can be fit in minutes in the operating room.
All of this made for a really nice little business that experienced aggressive growth year after year and raked in one award after another – not bad for a company that started in our basement. Our eyes were set on the future and how we could expand our product lines even further, continue to innovate and really make our mark on the wearable technology market. It was all great!
Then came COVID-19.
Our sports guard, SISU, is the largest part of our business. As the virus progressed from Asia to Europe and slowly made its way into the US, one sport after another was canceled until the cruel fact was staring us in the face; we hardly had any sales. Please understand, I'm not trying to disregard the fact that so many are being affected and are suffering right now. This virus is shameless, scary and makes no difference of who gets infected. But as a business owner, who is responsible for 20 some people getting the paycheck that they're depending on, this tragedy was elevated to a whole new level. What was I supposed to do? Well, the first thing I did…was to cry. I couldn't help it! I felt so helpless and desperate.
Then, we realized that it was to do or to die – fight or flight mode kicked in, and we decided that there was no way we were going down that easily. But it turns out that trying to navigate a global pandemic as a small business whose largest cohort of customers abruptly determined that they weren't going to buy any product for the next 6-12 months requires more than just the will to survive.
Fortunately, I have fantastic people on my team. One of them, my COO Kathy Capelli, texted me at 5 AM one morning. Here is the message that changed EVERYTHING!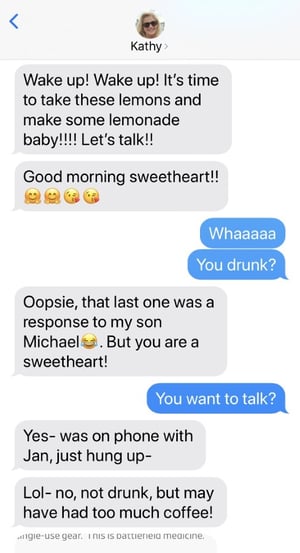 Obviously, she was far from drunk. Instead, she had been up since 2:30 AM trying to figure out a way out of the business's (and my) misery. The solution? Let's produce something else, something that there is an urgent need for during these tumultuous times – of course, the natural answer was medical supplies (since we are already in the medical device business. And in our case, it made sense to start producing face shields to be exact. These items, which protect our brave healthcare workers who put themselves in harm's way to help us during this crisis, and are in critically low supply, and we decided that it's our duty to help. Plus, aside from the supply-side incentive for it, we also get the opportunity to extend employment opportunities to members of our community – that's the textbook definition of a no-brainer.
So, for the last week, we have been busy researching where we can find supplies, how we can set up the manufacturing and who we can offer these to. My Production Manager, Paul Wisniewski, has tirelessly and patiently sourced what we need to get started. Unfortunately for him, this is what I love to do, so when I say that he has been patient, I mean he has been patient with me.
To be an entrepreneur is to have a thousand thoughts a minute swirling around in your head. What, where, how, who, when, why? But, by working together, the whole team, we are almost ready to get going with our newly minted Face Shields.
And by God, we are going to beat this dreadful threat we are all up against. We are going to come out of this much stronger and more resilient than we were. We will take this traumatic period in our history and use it to dynamically grow and develop for the better. It's up to all of us to turn this tragedy into a triumph and make some damn lemonade.
Stay safe, stay healthy and stay sane!
Virtual hugs,
Sassa