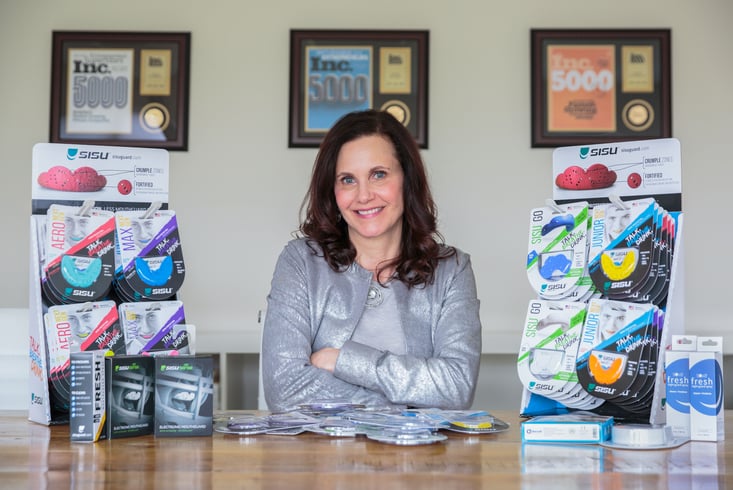 Here at Akervall we try to do everything by the book. We do right by all, by whatever means. We are a bunch of hardworking, goodhearted people who are united in this quest we are on; to make better mouthguards and protect teeth for everyone, everywhere, every time. So far, we have done well. After 10 years serving our customers from the kitchen table, the basement or, like presently, from our beautiful corporate facility, we are now manufacturing and shipping mouthguards all over the world. We know we are doing good in this world, because our customers tell us so. We have awesome products for sports, night grinding and even for oral surgery being shipped out of our warehouse to every corner of the planet. Every day. Year round.
So, I guess I shouldn't be so surprised that we now see copycats, counterfeit product showing up on the internet. Yes, I know the highest form of flattery is imitation, but this just makes me mad. And sad. Here's why: Our products are made with the highest form of integrity as our R&D department is backed by science. The National Science Foundation (NSF) is where some of the smartest people I have ever met are working. NSF is backing us because they see the brilliancy in our products.
There is no brilliancy in the counterfeit products coming out of other countries. They break, they don't fit well, they are sticky and they are hard to remold. Our customers who think they have bought a SISU Mouthguard, because it looks like a SISU Mouthguard, call us in frustration with cracked un-moldable mouthguards that do not fit or protect. This puts us in a very difficult position. Do we replace the product? Do the dishonest counterfeiters win? A true SISU Mouthguard fits like a glove, protects your teeth and are remoldable many, many times.
So, how do you know that you have a genuine SISU or SOVA product in your hand, backed by the highest warranty on the market (up $35,000 per incident)? Well, there are a couple of red flags that we would like to share with you.
If it sounds too good to be true, it probably is.

Our pricing is pretty much the same worldwide. If you suddenly see a place where you can get them for a fraction, please don't be fooled. They are most certainly a fake and will do nothing to protect your teeth.

Please note that we do NOT sell our products on Ebay.com. If you buy them there you are taking a risk

.

Is

saving a

few

dollars'

worth

the

potential cost

of a dental

injury

?

A cracked

or

broken tooth

can

cost

$

10-25K

in

dental work over

a

lifetime

.

Of

course, we have plenty of retailers that also are

selling

online

.

If you prefer to shop from a trusted retailer, you are most probably safe, especially if their pricing is about the same as ours. You can shop with 100% confidence on our website: www.

sisuguard.com

or www.sovanightguard.com

or from Amazon.com (make sure it says

Fulfilled by Amazon

). But if you come across an un-heard of retailer (oftentimes with an

unusual name), please exercise caution.
2. Also note that many of the counterfeit sites are using our copyrighted images. I understand this makes it harder for you as a consumer to understand which the genuine product is. So, please follow the suggestions in the first bullet point above. If you are worried or wondering about if a certain site is selling SISU, please contact us and we can let you know if the product is legit or not. We would welcome the chance to steer you in the right direction, whether it is to one of our retailer's site, a big box store, Amazon or our own website. You, our customers, are the very reason we have been in business for 10 years, and we wouldn't dream of jeopardizing the safety of your teeth – or our reputation.
3. As I mention above, we pride ourselves with the highest integrity when it comes to our products. We know that there is nothing harmful in our guards. As for copies and counterfeits, we really have no idea what is in them. Even if the material in the mouthguard is harmless, what about other toxins it may have come across during manufacturing?
4. And finally: Please understand that there is no warranty behind counterfeit products or products that have been purchased from a non-credible source. There is nothing that we here at SISU can do to help you, should you have been unfortunate enough to have a counterfeit inferior product. So, be careful and only buy from credible sources, please.
So there. I had this on my mind and here it is in black and white. SISU, a Finnish word, means perseverance, endurance… grit if you will. When you are fighting, in the game, or on the field – you use your sisu to persevere. And so do we. We won't let these fake guards and the unscrupulous people behind them get in our way. Nor should you.
Thank you for reading. Let me know if you have any question or if you want to chat.
Sassa