My name is Isak Akervall. In the spring of my seventh grade year, I was recruited to my middle school's lacrosse team by a couple of my friends. It was my first year playing, and at first I was hesitant. I had never played lacrosse before so it took me a little while to get situated and understand the sport. By my eighth grade year I was completely hooked on the sport. I was a starting mid-field and had caught the lacrosse playing fever. My freshman year in high school was the same. I was on the varsity lacrosse team at my school and I looked forward to the season all year. I've loved the sport ever since I first started playing it, which is why the Fields of Growth mission resonated with me. It is the perfect way to give back to the community while spreading the joy of lacrosse.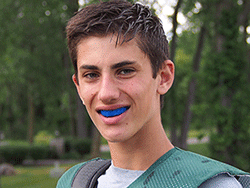 A few years ago my dad, Jan Akervall, invented theSISU Mouth Guard, which protects better than conventional mouth guards. As I learned about the Fields of Growth, I came up with the idea that our company should donate a mouth guard for every guard purchased to children in need, who wanted to play lacrosse. I think this is an amazing opportunity to help young lacrosse players around the world become interested and develop skills in the sport. I'm really hoping this project will help spread lacrosse around the world and so kids everywhere will love it as much as I do. Please help me support the Fields of Growth project.

It's simple: For every mouth guard you purchase, we will donate a mouth guard to the fields of growth. All you have to do is use the coupon code fieldsofgrowth and we will donate a guard to a child in need.

Fields of Growth International is an organization helping to spread lacrosse to areas of the world that would otherwise never have heard of it. I think it is incredible what the organization is doing to help spread this great sport around the world and I would love to help Fields of Growth to help kids in need. I hope this project will promote lacrosse on a world wide scale and have these kids enjoy the game as much as I do. Hopefully this will give all the players the proper equipment needed to jump start their lacrosse careers and mouthguards to keep them safe. At some point I intend to go to Jamaica and help kids there fit the mouth guards and show them how they can teach others to fit them.

A big thank you to all the people who are donating and helping these kids get the equipment they need to play the sport. I know that with your donation these kids will love the sport just as much as I do.
Thanks for helping!
Isak Akervall
For more information on Fields of Growth International visit the Fields of Growth International Homepage.