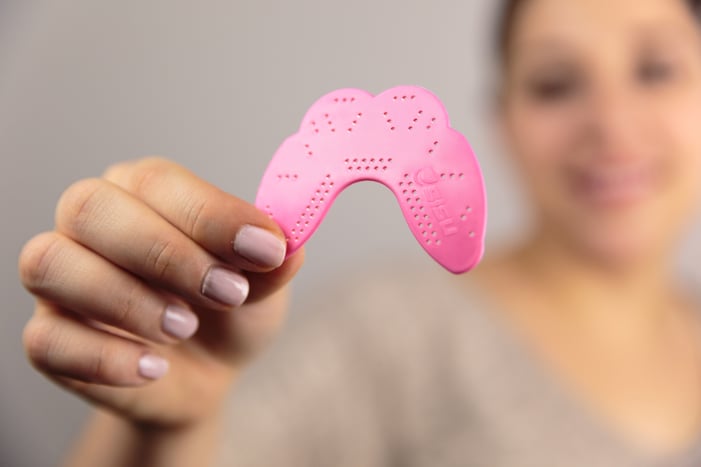 What makes Akervall Technologies uniquely different: the attention to details in all of our mouthguards? Every athlete, child, senior and sometimes even musician deserves to have the SISU advantage. These details give Akervall Technologies a step up in protecting your teeth.
More Protection
Our SISU mouthguard is eight times tougher than other conventional mouthguards. But, how? It is made from our patented Diffusix Technology. The small perforations in the mouthguard act similar to trusses on a bridge, allowing the structure to flex when an impact occurs. The non-compressible material acts like a shield that deflects force rather than absorb it. This way there is less impact on your pearly whites.
Smaller Guard
It was about time that mouthguards got a refresh. Nobody really enjoys wearing a big material mouthguard. The SISU is at least 30 percent thinner than other mouthguards. With less material comes more comfort and usability. Use the SISU mouthguard when you are drinking, talking or playing.
What happens if you get our mouthguard, and two months later you get braces? No worries. Our guard can be remolded as your teeth shift. We want to make sure every part of your teeth are protected.
Bonus! You can remold our SISU Mouthguard up to 20 times! Just drop it in a bowl of hot water and watch magic happen.
Every detail matters to us at Akervall Technologies, and every detail should matter to you too. When you get a SISU Mouthguard you can rest assured that we paid close attention to the details. We back this up with our $35,000 dental warranty. If you chip or break a tooth while wearing a SISU Mouthguard, we will cover the out of pocket expenses to fix it.
Keep up with our blog to hear more exciting details we have in store for you in January.