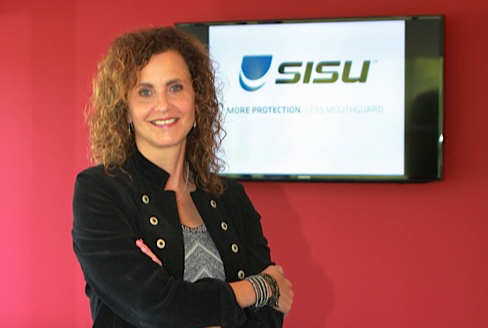 Akervall Technologies created lightweight mouthguards that offer athletes more protection than conventional models
"We want to transform how people look at mouthguard protection," says Sassa Akervall, CEO of the Ann Arbor, Michigan-based company. "Mouthguards may not sound sexy, but there's a huge need for them. And though people may think bulkier is better, there is no science to support that."
The company's roots trace back to Sweden in the early 2000s when Akervall's husband, Jan, an ear, nose and throat surgeon, designed a mouthguard to better protect patients' teeth during operations. After the Akervalls moved to the United States in 2004, their daughter became involved in field hockey and needed an athletic mouthguard. Yet the couple was disturbed by the lack of innovation in available products. "The last big advance was the introduction of EVA (ethylene vinyl acetate), which more than half a century ago," Sassa observes.
In response, Jan adapted his surgical mouthguards for the athletic market, and, together with Johannes Schwank, a chemical engineering professor at the University of Michigan, launched Akervall Technologies in 2008.
The company's DiffusixTM technology leverages noncompressible material along with carefully placed perforations in a design that directs the impact of blows away from the wearer's teeth. Depending on the particular model, SISU (a Finnish word that means "perseverance" or "bravery") mouthguards are up to 50 percent stronger and 60 percent thinner than competitors. The perforations also enable wearers to breathe, drink and talk more comfortably. "We've had athletes that tell us their mouthguards are so comfortable that they forget to take them out until they've gotten home from a game," Sassa says.
Akervall Technologies initially targeted the roller derby market, but recently has expanded into ice hockey, lacrosse and mixed martial arts. The company sells its products online and through sporting good distributors in the United States and 10 other countries including Australia and the United Kingdom.
In addition to athletic mouthguards, Akervall Technologies has developed a product line for nighttime teeth grinders: SOVA (Swedish for "sleep"). Although SISU generates the lion's share of revenue, the company is starting to private label the SOVA line for distribution in pharmacies, which is expected to boost sales.
On the R&D front, Akervall Technologies is developing a new active material that hardens on impact, for which it has won an SBIR grant. "It's like a safety belt for the teeth," Sassa says.
Since its launch in 2008, Akervall Technologies has grown to $1.5 million in revenue with eight full-time employees and five part-timers. Sassa hopes to increase revenue to more than $10 million and expand staff to 30 employees by 2019. "We're being very strategic about growth and expanding by bootstrapping rather than with outside investors," she says.
Indeed, for its first six years, the company operated out of the Akervalls' basement. In May, however, the couple purchased a 15,000-square-foot building in Saline. The extra elbowroom will enable the company to handle packaging and manufacturing operations in-house instead of outsourcing them.
"We never could have done this in Sweden," says Sassa, a former TV journalist and host who also operated a small video-production company in her native country. "There's not the kind of support you get here. The business climate, at least in Michigan, has been very supportive."
In particular she refers to SPARK, an Ann Arbor-based entrepreneur support organization, which provided Akervall Technologies with a $15,000 microloan. "Even though it wasn't a huge amount, it made all the difference in the world and enabled us to buy our first inventory," Sassa says. SPARK also helped recruit individuals for the company's advisory board and arranged for University of Michigan graduate students to conduct surveys to better target potential customers.
Being named a Michigan 50 Companies to Watch honoree in 2014 has also helped raise visibility for the company and generated articles in a number of business publications. "You can have the best invention ever, but if nobody knows about it and you don't have the means to do a widespread campaign, then your success is limited," Sassa points out.
The award has also been motivating, Sassa adds. "For employees, it shows we're on the right track. For me personally, it really shows that the sky is the limit."