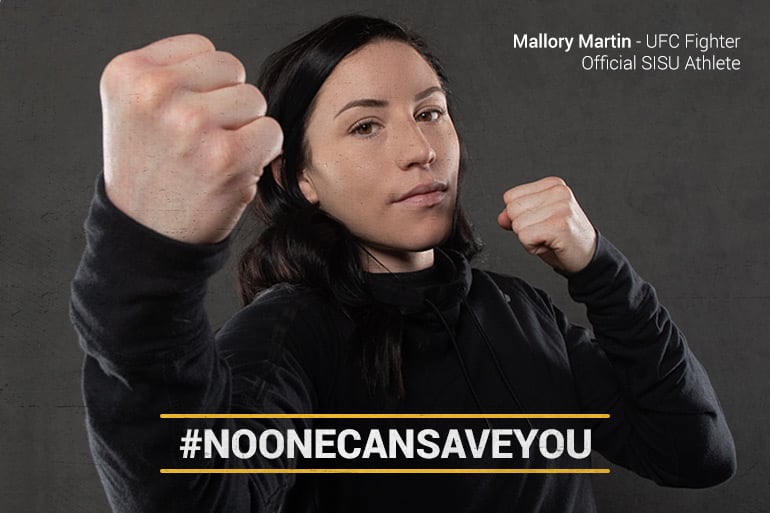 This week we caught up with MMA fighter and SISU brand ambassador, Mallory Martin. She is preparing for her fight against Polyana Viana this Saturday, February 13th at 8:00 pm.
Mallory's career as an athlete began at a young age, but she didn't discover MMA until she was in high school. The SISU marketing team chatted with Mallory about her discovery of MMA, her past fight with Hannah Cifers and thoughts about the upcoming fight in this exclusive interview:
How did you get started in MMA?
MALLORY: I played team sports in high school for 4 years- volleyball, soccer, basketball, and track. I was always told I was too aggressive. I was always red carded in soccer. I always found myself boxing with the boys.
I didn't even know what MMA was until I wen out to eat with my Dad and Stepmom, we saw a fight on TV. I was immediately drawn in. I was still in high school.
My dad did some boxing, he told me to look into it. I found the gym, told them that I wanted to be a professional fighter.
After I graduated from High School, MMA became my career. I had my first amateur fight one year and a half after I began training. I won a scholarship to the famed Tiger Muay Thai gym in Phuket and now train at Elevation in Denver, CO.
What is training like?
MALLORY: Out of fight camp (8 weeks prior to the fight) It's a lot of strength and conditioning- pushing weights. Then when I'm in fight camp, it is more speed and cardio. I also do a lot of wrestling, sparring and Jiu Jitsu. Hitting mitts with my coaches.
What is fight camp?
MALLORY: It is 8 weeks out before a fight.
Tell us about your last fight with Hannah, how did it feel after the 1st round when you got the choke hold on her?
MALLORY: I knew going into the fight that I had the advantage on the ground. I know how to stay composed. I knew going into it she was coming off a few losses, once it got to the ground, I knew I had the advantage there.
Are you excited for your upcoming fight?
MALLORY: Yes! I'm ready to get in there and do my job.
We love your Instagram- you post a lot about your dog, what kind of dog do you have?
MALLORY: She's an English Mastiff named Reign.
How did you find out about SISU Mouthguards?
MALLORY: I was looking for a smaller fit mouthguard, did some research and I ordered my first online in like 2015 or 2016.
What do you like best about SISU?
MALLORY: I like how small it is and very form fitting. A lot of the other mouthguards I tried are very loose and bulky.
Well, we really want to thank you for your time. Good luck on February 13th, our whole team will be cheering you on!