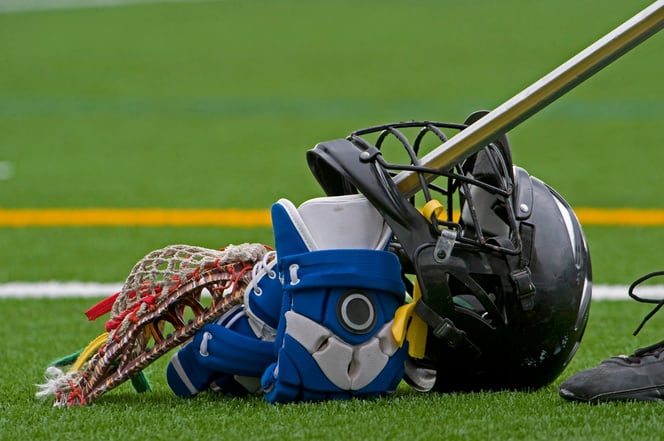 For every young child who picks up a lacrosse stick for the first time, there is a parent in the background wondering how to make heads or tails out of all of the equipment required for the sport. Unlike sports such as basketball or soccer, lacrosse requires a lot of equipment before a player can even step foot on the field. As lacrosse continues to grow in popularity, there are more and more choices available in kids' lacrosse gear. I took a poll from my son's high school lacrosse team and came up with a "must have" lacrosse equipment list... according to my favorite lacrosse player and his team.
Helmet

A no-brainer for kids' lacrosse gear (pun intended), you want to look for a helmet that is vented, one piece for better vision, lighter weight and a fitting system which will allow for a customize fit. Make sure the helmet you choose is approved by NOCSAE, National Operating Committee on Standards for Athletic Equipment. This is one of the most important pieces of kids' lacrosse equipment, so it's better to spend the extra dollar here to ensure your child's safety on the field.

Arm pads

Arm guards will vary in protection based on the position.

Make sure pads are not too tight or too loose and that the elbow is entirely covered.

For attack, we like Warrior Evo Pro.

Shoulder Pads

The shoulder protector should be light and move with the body.

Warrior Evolyte

is a good choice for comfort and function.

Gloves

All players are required to wear protective gloves.

If you're purchasing for a goalie, make sure to get goalie specific glove (comes with extra material in the thumb).

Marverik Max

gloves form to the hand and provide a cool air flow.

Mouth Guard

A mouthpiece is mandatory lacrosse gear for kids and must be a bright color (no white or clear).

SISU

mouthguard is ultra thin and offers more protection while allowing the player to talk, drink water and breath naturally. SISU is also the official mouthguard of US Lacrosse!


Shaft

When it comes to the stick, it can be a matter of personal preference.

Titanium shafts are typically the strongest and aluminum shafts usually are the most lightweight. Scandium shafts offer a balance between the two.

Make sure to have the correct length that correspondes to the player's position.

Defense – between 42-62 inches
Goalie – between 40-52 inches (most common is 40")
Attack/Middie – between 30-32 inches

Head

Choosing the best head is a matter of preference, skill level and position.

Here's a great video of recommendations from our friends at ComLax:

Cleats

Cleats come in high tops for ankle support, or low-cut to provide the ankle more flexibility on the field.

New Balance Freeze Cleats

are built specifically for lacrosse. It offers support for on-field traction, control, flexibility, stability, while and rotational release.

stink Defense

As a fellow sports parent, I know you are familiar with the foul stench of sweaty gear. Grab a pair of GloveStix to stick inside gloves and cleats to elimate the odor.

Fan gear

Because lacrosse season spans the tail end of winter and the last bit of spring, I dare say, you need to be prepared for 3 seasons of fanwear plus a good pair of rainboots. I wouldn't be complete in the stands without my team hat, mittens, scarf, rain jacket and quarter zip. There are plenty of local companies that your team can work with to create a good line of spiritwear which can also be a nice fundraising opportunity for the team.
It is important to remember that lacrosse is a contact sport. Players can get hurt. But you can ruduce the risk of injury by wearing the right protective equipment.