Well guys, the madness is officially over. We started with 68 teams and now we're left with Duke standing atop the college basketball mountain. This season was filled with great games, apps, commercials, brackets and so much more. We've compiled a list to bring you the best of this year's March Madness.
1. Best Game
Aside from epic final championship between Duke and Wisconsin, the best game goes to Kentucky (68) vs. Notre Dame(66) during the Midwest Elite Eight tournament. Kentucky was behind by four points with 12:44 left to play. After that, they didn't miss a single shot: nine attempts, nine makes. Not to mention, the great defensive play by Willey Cauley-Stein. This very game named the Wildcats the first college basketball team to 38-0.
2. Best Shot
R.J. Hunter hit such an impressive 3-pointer to beat three-seeded, Baylor, it caused his father/Panther's Coach to literally fall off of his stool. Even though the Panther's March Madness journey ended 2 days later, they will always have this memorable (and hilarious) moment.

3. Best Story
Three No. 1 seeds made it to the Final Four along with the No. 7 seed, Spartans. Since 1999, Coach Tom Izzo has been to seven Final Fours, which is almost every other year. It's hard to pick against an Izzo-coached team.
4. Best Fan Outfit
Wisconsin's very own post-game depression, Po.
5. Best TV Commercial
I no longer hate Christian Laettner. Those AT&T March Madness Legends commercials edged out Samuel L. Jackson and Capital One.
6. Best App
The NCAA March Madness Live app is outstanding and this week it was the most downloaded app for the iPhone. My big screen TV died a few days before the tournament began. But with this app, I was able to watch any game live on my tablet or computer.
7. Best Bracket Name
I participated in a Yahoo! Fantasy Tourney Pick'Em Bracket Challenge. While I think my bracket name is pretty cool – Make Ashley Judd Cry – I have to take my hat off (pun intended) to Gene Keady's Combover, who actually won our challenge. I ended up sixth, but accomplished two major goals: I beat my brother AND I do think Ashley Judd cried after Kentucky lost.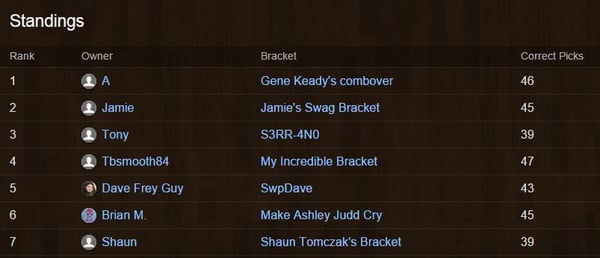 So, even though my favorite team didn't even make it into the NCAA tournament this year, there were many memorable moments from this year's madness.