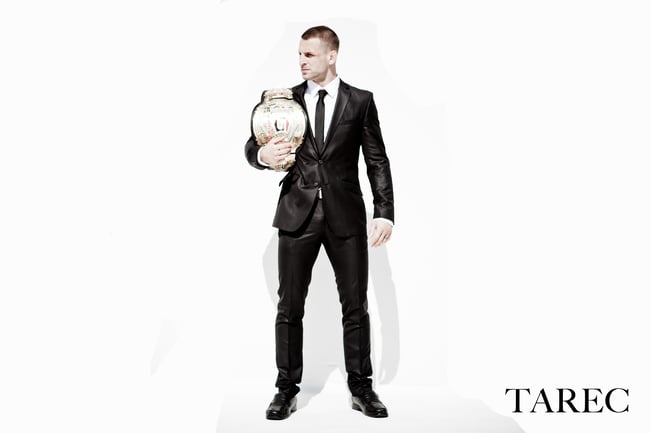 Tarec Saffiedine: Athlete, Fighter, and Family man
This week we caught up with MMA fighter and SISU Guard brand ambassador, Tarec Saffiedine. He is in the midst of his preparations for his fight against Rory Macdonald on October 4 th; this could be a pivotal match to his career in the UFC, potentially propelling him toward a shot at the title if he wins. Saffiedine, 27, moved to the states from Belgium to pursue a professional career in MMA, and although he is training hard for what could be the most important fight so far in his career, he makes time to enjoy the California sun with his wife and two young children.
Tarec's career as an athlete began at quite a young age, but he didn't discover MMA until much later in his life! SISU marketing intern - Miriam Akervall- talk about Tarec's history, family life and thoughts about the upcoming fight with Rory in this exclusive interview:
Tarec, it's good to hear from you. How is your day going so far?
So far so good, can't complain.
Good. Well I'd like to start by hearing about how you got started with MMA.
"Basically, I grew up playing all kinds of different sports since I was three years old. I played team sports like basketball and soccer. But when I was sixteen or seventeen I started reading Manga, you know the Japanese cartoon, and my father did some taekwondo when he was young. So what I did was I started out with taekwondo, but what I was looking for was a more competitive sport, not just martial arts and self-defense. I really wanted to compete and fight, and in taekwondo there weren't a lot of tournaments at that time. So through some friends I discovered Shishi Kai Karate, which is really similar to MMA, and I did a lot of different tournaments for martial arts and combat sports such as kung fu, grappling, judo, kickboxing, karate full contact, stuff like that. So I was competing a lot and then in 2007 I had my very first pro MMA tournament in Belgium, and here I am today."
Wow, that's quite a story. So you've obviously had some experience with team sports – what was it about the one-on-one fighting that appealed to you?
Yeah I grew up playing basketball for a long time. I had the same friends and the same partners for a long time, and then the place I was training at kind of fell apart, so I had to switch teams. I didn't like the new coach or the new teammates too much, so it was the temptation of martial arts at the same time that made it a better fit for me. But a lot of people see martial arts as an individual sport, and I agree in one way, but I also disagree because I have like six coaches that I train with every day. I have a team and we all train together. It's true, at the end of the day you're alone in the cage, so it's a one on one sport when you fight, but leading up to the fight your whole team is surrounding and supporting you, and you support your teammates. So it's kind of a mix of both I would say.
Yeah I can see that. And speaking of training, can you tell me a little bit about how you train, and how you've been training now with your upcoming fight in October? Is there anything different that you've been doing?
Yeah, actually I just got back from Singapore. I've been training with a Evolve MMA for the past few weeks, I just got back a couple of days ago, and I always love to train over there. They have a really strong team - really strong coaches. I've been training hard for October 4th, and now I just got back [to the States].
How are you feeling about that fight?
I'm feeling good. I've obviously tried to stay healthy because I've had some injuries lately, so I really have to be careful about what I do. But as far as the actual fight, I'm feeling really confident. I asked to fight Rory, and I'm really thankful they gave me that fight. It's a huge opportunity and I'm going to grab it.
So, why did you ask to fight Rory MacDonald?
Simple; he's one of the best and really close to a title shot, and I want to fight the best. I truly believe that I have the skills to beat him. Watching his last fight, I really believe I have the skills to beat the top guys in the world, so that's why I asked to fight him.
Yeah, that's got to be exciting. And if you win, you have a shot at the title, is that right?
I don't know, it depends on a couple of factors but I truly believe that if I put on a good performance and win that fight, yeah I believe so. If they don't give me the title shot right away, they'll give me one more fight, and then I'll get the title shot. I'm really close if I win that fight.
Yeah absolutely. Well it's been great talking to you, and we're looking forward to that fight in October.
I appreciate that, thanks for the call.
Want to know more about Tarec? Email us with your questions at Miriam@sisuguard.com