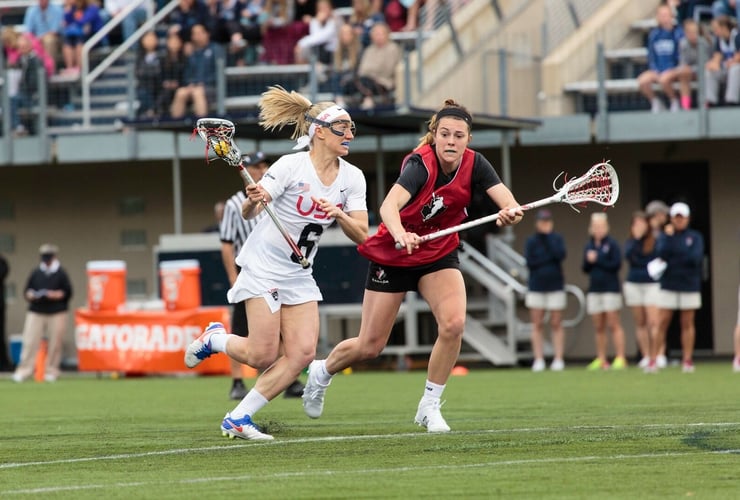 The 2020 Tokyo Olympics will see the introduction of several new sports on the world stage. This included sports like karate, skateboarding and rugby, leaving lacrosse fans to wonder: when will lacrosse be an Olympic sport? Unfortunately, their time has yet to come.
Although the Federation of International Lacrosse (FIL) is internationally recognized and recently gained membership into the International World Games Association (IWGA), the International Olympic Committee(IOC) has yet to introduce lacrosse as an Olympic sport.
Despite that, certain sports have earned their acceptance from the IOC, such as bowling and chess, but do not compete in the games. The reality is that participation isn't guaranteed. The acceptance process is actually pretty lengthy and complicated.
So, how does a sport actually get into the Olympics?
Olympic Proposal is made. This includes an extensive analysis of the sport's history and its international presence.

The sport's Olympic value and financial status are evaluated to see if it a) has the means to join, and b) upholds the principles of the Olympics.

The sport's popularity and ability to generate profit is determined. This consists of defining (roughly) how many spectators the sport will attract and if it will assist the games financially.
Albeit disappointing, the dream of watching an Olympic Lacrosse game is far from dead. The FIL has formally applied to be recognized by the IOC. With the sport's growing international presence, lacrosse has a better chance now than ever to be readmitted as an official Olympic sport (the last time there were Olympic lacrosse games was in the early 20th century).
The FIL recently added Haiti to its ranks, raising its total membership to 55 nations. With its rapidly growing global platform, more and more countries are now beginning to develop both men's and women's national teams and recognize Lacrosse's validity as a world sport.
Credit for the success of America's oldest pastime can largely be given to the sport's' increasing popularity. A game once played by the Native American's, lacrosse began to gain momentum in the country when Ivy League universities created their programs as in the early 1800's. For this reason, the East Coast has significantly more Lacrosse players in high school than anywhere else. Lacrosse spreading like wildfire. Midwestern and West Coast states such as Indiana and Oregon have begun to grow the sport not only because of its increased demand, but also thanks to its marketability.
The US' unique ability to be at the forefront of the lacrosse movement has helped to propel lacrosse onto the global stage. While the IOC still has yet to integrate lacrosse into the competition, its rapidly increased international popularity should come as relief to the lacrosse community as its chances of readmission are higher than ever before.