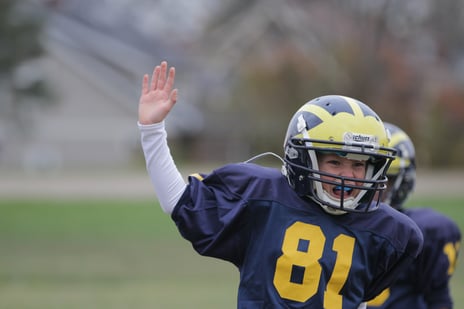 We've been asked this question a lot and we feel that an explanation is in order. The simple answer is: if your mouthguard claims to be NOCSAE (National Operating Committee on Standards for Athletic Equipment) compliant - throw it away. Here's why...
What is NOCSAE?
NOCSAE is a non-profit organization comprised of manufacturers, athletic trainers, coaches, equipment managers, sports medicine and consumer organizations. Their mission is to reduce the number of deaths in sports by evaluating athletic equipment based on reliable scientific data.
What does NOCSAE do?
NOCSAE develops performance standards for various sporting equipment. They have general standards as well as sports-specific standards. All sports equipment that is NOCSAE compliant must go through a series of multiple tests.
What equipment does NOCSAE test?
NOCSAE is committed to the testing of football helmets and facemasks, baseball and softball batters and catchers helmets, baseballs and softballs, ice hockey helmets, soccer shin guards, lacrosse helmets and facemasks and polo helmets. However, they have specifically stated that they do not test mouthguards, skullcaps, or headbands.
With new wearable technology emerging from the sports industry, there are many manufacturers claiming to be NOCSAE compliant or to have the ability to prevent concussions. Appalled at these dangerous claims, NOCSAE released a statement warning athletes and parents about equipment claims.
"Parents, athletes and coaches are becoming more informed about concussions, and this increased awareness is vitally important to advancing athlete safety. But it also creates a demand for quick solutions. Unfortunately there are quick solutions offered for sale which have neither scientific nor medical support that validate their claims to prevent or reduce concussions," said Mike Oliver, NOCSAE executive director.

"Any device or supplement promoted as being able to prevent, diagnose or cure a concussion must be supported by scientific data and peer-reviewed research. Currently there is no definitive scientific research linking mouth guards, head bands, supplements or other specialty products to a reduction in concussion risk or severity. For companies to suggest otherwise misleads athletes, parents and coaches into a dangerous false sense of protection against concussion. NOCSAE warns athletes and parents of athletes to get the facts about sports equipment and concussion protection and not rely solely on marketing and promotional materials when making equipment decisions," he adds.
NOCSAE Compliance for Mouthguards
In reality, it's impossible to put mouthguards through the same standardized tests that NOCSAE requires for other sports equipment. Several years ago, the Department of Defense (DoD) tasked SISU's science team to investigate if there was a mouth guard out there that could protect soldiers from concussions. Attempting to use the NOSCASE testing equipment, we found that existing NOCSAE testing equipment is too unsophisticated to result in any conclusive data findings.
Simply put, it is currently impossible to test mouthguards for any type of compliance.
At SISU, we pride ourselves in having factual data and research to back all claims for our product. For the safety of our customers, it would be unethical of us to claim that mouthguards protect you from concussions when the conclusive evidence isn't there to support that. It would also be immoral for us to claim that our mouth guards are NOCSAE compliant, when such testing does not even exist.
So, NO we are NOT NOCSAE compliant, but if you are wearing a guard that claims to be so, please read the small print.