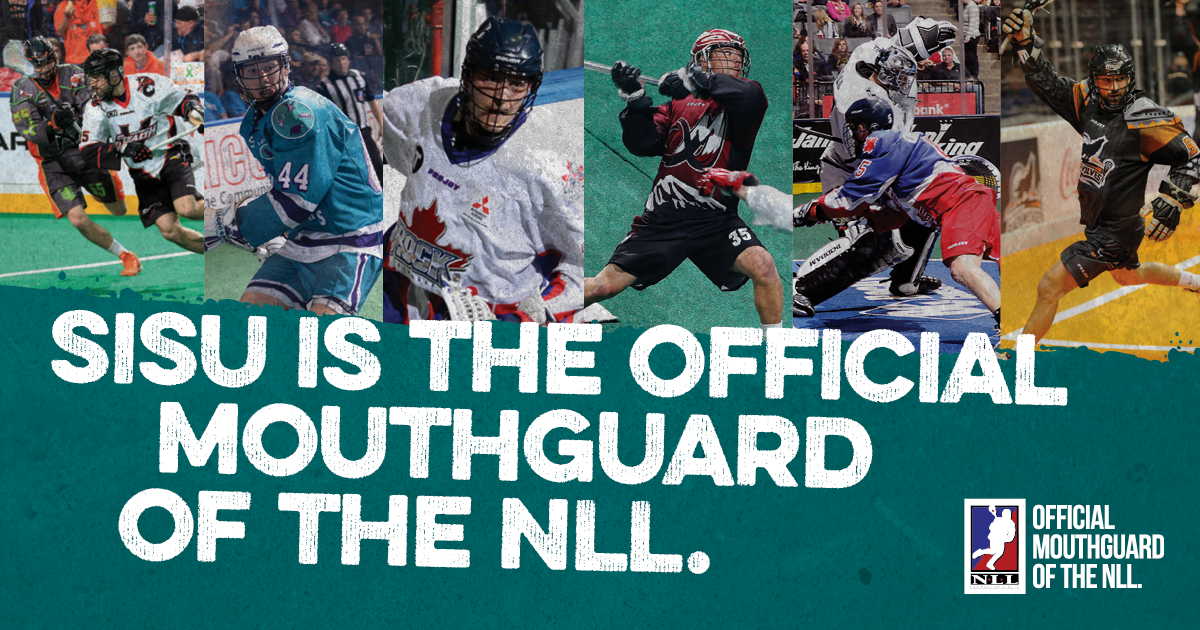 August 17, 2015. National Lacrosse League (NLL) has announced SISU Mouthguard as the official mouthguard of the NLL. As the league's exclusive supplier, SISU will offer the world's top lacrosse athletes and retailers custom-fit mouthguards powered by Diffusix™ Technology.
"The experience and infrastructure of the National Lacrosse League and their commitment to growing the sport is what makes them the ideal partner. We're excited to become the official mouthguard of the NLL and, through this partnership, bring higher safety standards and better communication to the lacrosse community." said Sassa Akervall, CEO and majority owner of Akervall Technologies, the makers of the SISU Mouthguard.
SISU Mouthguards are 1.6 mm thin protective dental shields, made from a non-compressible, perforated, remoldable thermal polymer. Powered by Diffusix™ technology, SISU Mouthguards deflect impact forces and absorb shock impact. Scientifically-engineered perforations create a custom fit and allow for a natural flow of air and saliva, to help improve communication on the field and increase athletic endurance, due to better breathability. With improved communication and better endurance, SISU guards have become the go-to brand for lacrosse athletes nationwide.
"We're excited to team up with SISU as the league's official mouthguard and help them spread the word to lacrosse players everywhere about their cutting-edge technology in developing the next-generation mouthguard," said NLL Commissioner George Daniel.

About SISU Mouthguards
The SISU brand is widely recognized in the athletic community as a stronger alternative that is both lighter and less obstructive than traditional mouthguards. SISU Mouthguards are manufactured by Akervall Technologies, Inc (ATI), headquartered in Saline, MI. ATI is comprised of a management core, manufacturing facility and R&D division, funded by an SBIR grant from National Science Foundation, where a dedicated team of world-renowned scientists works tirelessly to invent new technologies in dental protection. The company was awarded Michigan's Top 50 companies to Watch in Spring of 2014 and also won the Advanced Material track at Accelerate Michigan Innovation Competition the same year. For more info, visit: www.sisuguard.com and connect with SISU on Facebook, Instagram, LinkedIn and Twitter.
About National Lacrosse League
The National Lacrosse League (

NLL

) is North America's professional indoor lacrosse league featuring the best players in the world. Founded in 1986, the

NLL

ranks third in average attendance for professional indoor sports worldwide behind only the NHL and NBA. The league is comprised of nine franchises across the U.S. and Canada: Buffalo Bandits, Calgary Roughnecks, Colorado Mammoth, Georgia Swarm, New England Black Wolves, Rochester Knighthawks, Saskatchewan Rush, Toronto Rock and Vancouver Stealth. The 2016

NLL

season will mark the league's 30th anniversary year. For more information, visit
NLL

.com
and find the

NLL

on
Facebook
,
Instagram
and
Twitter
.