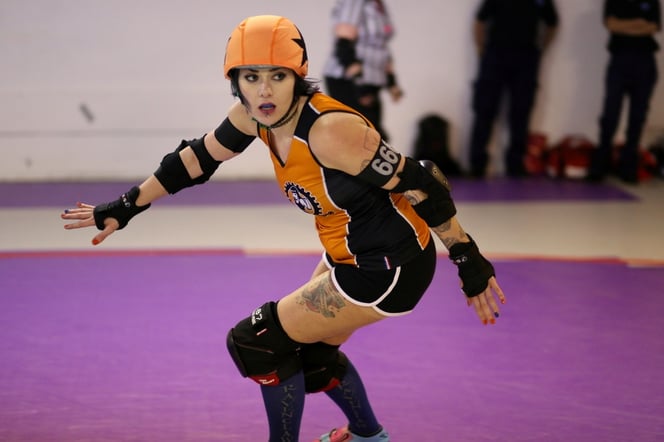 Photo by Claire Brand
So, you've made the decision to join the bad ass world of roller derby. Little did you know, you just made one of the most rewarding decisions of your life. Roller derby is a fun way to stay in shape, make friends and try something new!
But before you show up for try outs, there are a few things you need to do to prepare...
Learn the Game
Do some online research to familiarize yourself with the basic rules of roller derby. Check out a roller derby glossary to learn the terminology, watch some YouTube videos and read blogs. Then, go to an actual bout. Witnessing a bout firsthand is a different experience from watching online. It will give you a real time feel for the mechanics and energy of the game.
Be Ready to Commit Your Time
Like all sports, roller derby is a time commitment. Depending on your team, expect to spend 5-15 hours a week practicing. On top of that, there are usually tasks outside of practice that are required, such as joining an event organization committee, managing social media accounts or securing sponsorship funds.
Find a League
If you live in a metropolitan area, there's probably a roller derby league near you. Check out the WFTDA or derby listing to find a league in your area. Once you find one, reach out to the team recruiter to find out what you need to join the team. Every team varies on their "fresh meat" policies. Some teams offer boot camps for complete newbies, while others may expect you to be skate ready when you join the team.
Purchase Gear
Before you jump into buying fresh derby gear, talk to other derby players to find out what products have worked for them. Some teams have "loaner" gear for you to use until you're ready to invest in your own equipment. A lot of skate shops have "starter kits" that have all of the gear you need to join a team: skates, pads, helmet and a mouth guard.
Get Out There and Skate
It's time for the action! Go to your local roller rink and start getting comfortable on skates. Don't worry about your progress. That will come with more practice. If you have never skated a day in your life, consider taking a beginners skating class (usually offered by skate rinks).
Take Care Of Your Body
Now that you're about to become an all-star athlete, you need to take care of your body like one. Maintaining a healthy diet and spending time to cross train will make you a more efficient skater. No you don't have to give up every foodie joy in life, but junk food and alcohol should be consumed in moderation.
Acquire Health Insurance
This is not your grandma's sport! Roller derby is a full contact sport (part of the reason why it's so bad ass). There will be plenty of shoving, slamming, falling and bruises (aka derby kisses). But on occasion, injuries are more serious and require a hospital or doctor's visit. For these cases, you need to have health insurance.
There is no doubt that roller derby is a huge time, financial and energy commitment. But as with any sport, you do it anyways because you love it. Just be prepared to learn and have fun!