This Saturday I went to my first ever roller derby bout for our home team - Ann Arbor Roller Derby. I know that SISU and Derby go way back, but I just started with SISU in January, so it was my first ever full bout experience.
It was AMAZING!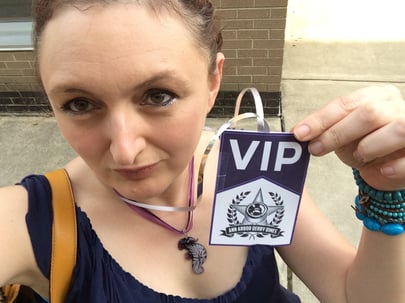 I beat our office manager Terry there by just a little bit, so I was first to arrive at the welcome desk. As soon as I spoke the magic words, "Umm... Hi... I am from SISU..." I was transported into a world of "Royal Treatment". I could not believe how well everything was thought out and how welcome these girls made me feel. I was immediately handed a bag with a bunch of goodies and this cool, hand- made VIP pass. A thank you card with merchandise credit, and convenient water bottles made the experience so much more exceptional.
Just as I finished saying my thanks, my guide - MILF - arrived to take me to our seats, specially marked for SISU in the front row with a great view. Since I've never been to a bout, the A2D2 team assigned me a very patient and knowledgeable guide, who took me through the basics and some of the cooler neuances of a derby bout. I already knew some of the very basic stuff, like a Jammer wears a star on her helmet, but she basically had to explain things to me play by play. Afterwards, my husband and I went to dinner and I was proudly answering questions about what a Lead Jammer is and why they tap their hips sometimes.
Of course some things were completely unexpected. Like, when a Jammer passed the star to a Pivot.... I was like, WAAAIT? WHAT'S JUST HAPPENED?!!!
I have no idea how the refs do it all, but it was so cool to see the synergy between the refs and the scorekeepers. I even started to understand some of the hand signals. The cheerleaders were great too. Papa Vicious and Mr. O'Bashes were styling in mini skirts yelling, "AAAAAAY TOOOO!" and the crowd cheered,"DEEEE TOOO!!!" (A2!D2!)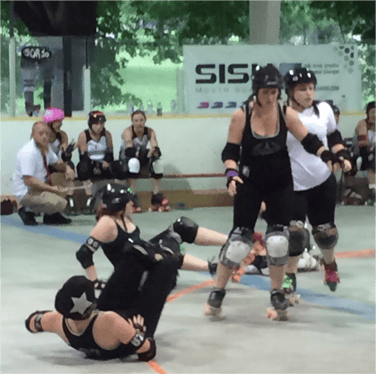 It was great to see the derby love in action. The amount of pain you girls put each other through is unbeleavable. But you are also very kind to each other. I could see jammers lining up and chatting with each other, laughing. One second a skater from Killamazoo elbows one of our girls so hard, she goes flying and the next, both of them are laughing about it. It helped me better understand the true meaning of "love and shoves."
A really sweet moment for me and Terry was when one of the skaters came up to us to say thanks. Last week during practice she took a tumble and "face planted" into the floor. She ended up with a bloody lip, which you can barely notice anymore, but her teeth were intact. She flashed us her perfectly intact pearly whites, "SISU is the best guard ever. Thank you guys!"
We enjoyed talking with skaters and officials after the bout, and taking photos full of SISU smiles. We had a genuinely great time.
While A2D2 did not win the game against Killamazoo, they closed the points gap from last year by more than 300%, which was a huge victory. I wanted to say thanks again to the Ann Arbor Roller Derby skaters and administrators for making Terry and me feel so welcome and special at my first ever bout.
I can't wait to see you guys again in August!
Rita Shelley
Director of Marketing for SISU Guard