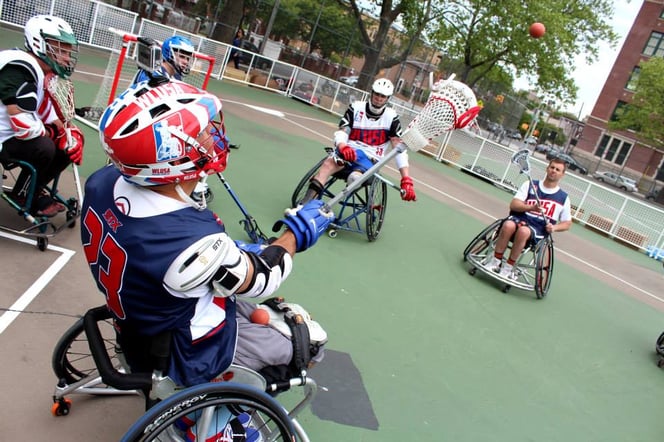 Ryan Baker is modest, focused and composed during his interview with SISU. His goal is to keep the program going, to get more equipment for his teams, and to gain some support and exposure for Wheelchair Lacrosse USA. To Ryan, his accomplishments are no big deal. To us... his actions embody the very essence of SISU.
The day after his high school graduation Ryan Baker lost the use of his legs. It was a car accident. The life that was about to begin came to an abrupt stop. What would you do? Would you mourn the loss of opportunity? Would you look for safer pastures? Would you crumble? Not Ryan.
Ryan Baker redefined unstoppable by becoming a US caliber athlete: he formed Wheelchair Lacrosse USA.
Following his recovery, Ryan didn't waste anytime picking up his life where he left off. He remained active through a variety of wheelchair sports. After being introduced to the sport of lacrosse, Ryan wondered if it could be possible to reinvent the game for wheelchair athletes.
This idea that with him for nearly 18 years, until he brought it up to his friend and fellow paraplegic, Bill Lundstrom. Neither of them had ever picked up a lacrosse stick, but they were determined to try.
"Team oriented sports are really limited and I just thought about how likely would it be for wheelchair lacrosse to become or be considered an actual, viable sport for disabled athletes." says Ryan, "I didn't really know what we were getting ourselves into initially," he adds, laughing.
Ryan and Bill quickly discovered that with a few small changes, like using no-bounce balls and subtracting 2 players, could take wheelchair lacrosse from inception to full on reality. What started out as two friends experimenting with a cool idea, grew into a group of 6-8 players within the first month.
After securing a venue and gathering equipment, the team began playing consistent games every week. And, thanks to the growing interest, they were invited to teach their variant sport at a disabled sports clinic in northern California.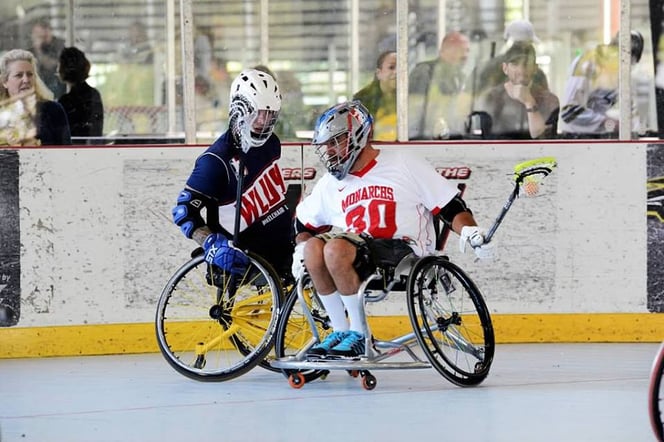 With the success of the first clinic, wheelchair lacrosse was gaining momentum. Bill and Ryan began traveling around the country to introduce the sport to other wheelchair athletes. Each team they worked with received equipment and built a solid foundation of the game to help jump start their own programs.
For many new players, there is a learning curve. Some athletes have only been using a wheelchair for 6-8 months and others have never picked up a lacrosse stick in their life. But the coaches are patient, the programs are inclusive and they harness different skill levels to make it fun for everyone.
"I really do believe that once people figure it out and really become proficient in handling the ball, and the less times the ball is on the ground, then it really opens eyes on how quick the game will be," Ryan says.
With help of Ryan and Bill, wheelchair lacrosse has grown to 24 self-sustaining programs nationwide and has been active for over 7 years. Some of those programs are run by dedicated individuals, and others by non-profit disabled sports organizations.
But there are, of course, challenges. Without connecting the programs and offering opportunities to compete, US Wheelchair lacrosse risks losing players.
That's not going to stop Bill and Ryan. Next step for wheelchair lacrosse? This summer the entire league will host their first ever championship at the Ocean City Lacrosse Classic.
Ryan not only refused to live a life on someone else's terms, he helped other wheelchair athletes get into lacrosse. He equipped them, taught them how to play, and gave them the support and knowledge needed to be a competitive team.
And he has high hopes for the future of Wheelchair LAX USA. He plans to continue growing the sport domestically, internationally and even take it to the paralympics.
Want to help Ryan fulfill his dream? You can donate your gently used or new gear to teams who need it most. Take action!