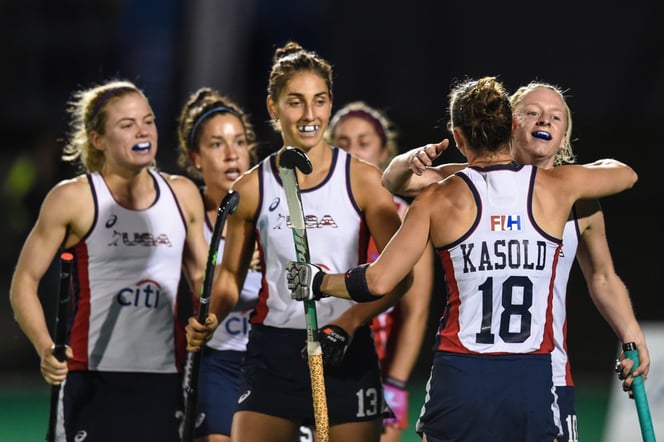 Saturday
USA v. AUS
The FIH Women's Champions Trophy kicked off with a match between Australia and the United States, ranked third and seventh respectively by the FIH World Hero Ranking. Although ending in a 2-2 draw at London's Lee Valley Hockey and Tennis Centre, the game was a demonstration of both teams' exceptional athletic skill and ability that kept us on the edge of our seats.
Australia scored first at the end of the first quarter in a play executed by new Hockeyroos recruit Kathryn Slattery, whose shot flew between the legs of American goalkeeper Jackie Briggs. USA soon retaliated with a volley by Jill Witmer off the crossbar. Australia's Grace Stewart scored their second goal just after halftime, but another goal from Caitlin Van Sickle evened the score between the Oceania and Pan American champions. Watch the highlights from the game here.
ARG v. GBR
Argentina tied host country Great Britain 2-2 as well, a well-deserved draw considering the former has been the reigning champion of the tournament for the past six years. The defending title holders scored seven minutes into the game via forward player Maria Granatto, but GB's Helen Richardson-Walsh forced the ball into Argentina's net soon brought back home field confidence from supporters. Argentina held the lead for a while with goal by Carla Rebecchi in the fourth quarter, but Richardson-Walsh knocked in a pass from Sam Quek with just seven minutes to go. To see highlights, follow this link.
NED v. NZL
Wrapping up the day with a strong victory against New Zealand, The Netherlands dominated in a 6-2 win. Top scorer Maartje Paumen upheld her reputation by sinking four shots in the net, and Kelly Jonker scored two more throughout the game. New Zealand put up a good fight, scoring two goals to match Paumen's first efforts by players Charlotte Harrison and Stacey Michelsen. Paumen, also team captain of the Netherlands, commented that, "New Zealand are really good, strong, fast players. They are a really good opponents and we had to bring out our best today to win this game." Watch highlights here.
Sunday
USA v. ARG
Argentina got their revenge on team USA from the Pan-American Cup finals this year with a 4-1 win, their first in the tournament so far. Captain Carla Rebecchi played an incredible game, scoring three out of Argentina's four goals, but Maria Granatto's reverse shot just one minute after the US' sole retaliation by Emily Wold was one for the books. Click here for video footage.
NED v. BGR
Continuing their winning streak from Saturday, the Netherlands won by two while continuously curtailing Great Britain's advances. Lidewij Welten and Maartje Paumen both made shots from penalty corners despite a valiant performance by GB goalkeeper Maddie Hinch. Three-time FIH Hockey Stars Goalkeeper of the year Joyce Sombroek was in exceptional form yesterday protecting the Dutch goal without breach. For more highlights, follow the link.
AUS v. NZL
In their first win of the Champions Trophy so far, Australia overcame New Zealand with a 3-1 victory. Emily Smith got the ball rolling with a goal for Australia just three minutes into the game, almost immediately countered by a lift from New Zeland's Anita McLaren into the top of the Australian net. Jodie Kenny put the Australians back ahead in the 17th minute, finished by another goal from Grace Stewart assisted by Georgie Parker in last quarter. Watch the clip here.
The next round of matches continue tomorrow, so stay tuned for more coverage. If you're lost and don't know what any of this means, mosey over to our introduction of the FIH Women's Hockey Champions Trophy.