While we have always believed in a SISU Athlete: woman, man, young, old, pro, newbie - it never mattered to us. In recent years, Sports retailers and manufacturer's have started to make serious efforts to reach the female audience. Underarmor has doubled down in it's female outreach with the help of leading female sponsors like Ballerina Misty Copeland, Olympian track medalist Natashia Hastings and pro surfer Brianna Cope. These sports giants are looking to females as their highest growing market.

But, Sport England took on a higher mission - to increase female participation in sports. The public body under the department of Media, Culture and Sport, launched the "This Girl Can" campaign in January 2015. Since the launch, Sports England claimed that the ad produced an increase of nearly 3 million in female exercise participation.
The ad features real women athletes of all shapes and sizes participating in a variety of sports activities from kickboxing to Zumba. It plays to the catchy beat of Missy Elliot's "Get Your Freak On" while displaying edgy phrases like "sweating like a pig, feeling like a fox".
Although the campaign is an English initiative, it has inspired women athletes and sparked conversation all over the world. The empowering video has been viewed over 37 millions times on YouTube.
With a gender gap of nearly 2 million fewer women playing sports compared to men, the campaign was much overdue. Before launching, Sport England held focus groups of women ages 14-40 to find out what was holding them back from participating in sports.
Their findings showed that one of the most common reasons for lack of participation was fear of judgment. The fear of judgment came in many forms for the surveyed women. Concerns ranged from embarrassment from lack of ability to self-appearance. Among those women 75% said they wanted to get out there and do more.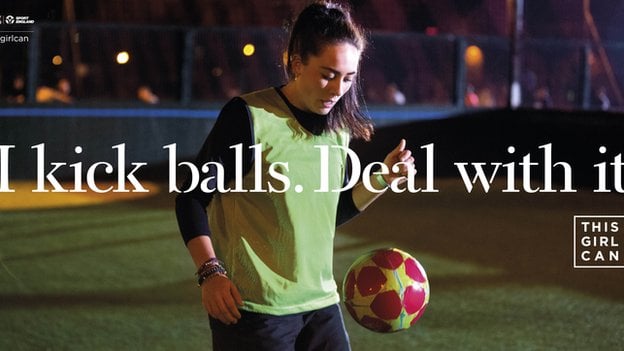 Featuring more women in the media and advertisement is a giant step for increasing female confidence and participation. As of 2010, only 1.5% of ESPN's (and three other affiliates) coverage includes women's sports. And as USC professor of sociology and gender studies, Michael Messner, puts it "It seems that they just don't know how to talk about women and women sports at all."
In addition to the coverage inequality, there is also a wage inequality with women in sports. You may have heard about the recent lawsuit from the US Women's Soccer Team. Their team has won 4 Olympic gold medals, 3 world cups and is currently ranked #1 in the world, yet they still only make a fraction of the money as their male counterparts (who are ranked at #31 in the world).
These are the role models that need to be seen, heard and broadcasted. These are the athletes that will motivate our young women. All girls can and should play sports. Stereotypes and fear of judgment should never us back. So get out there and do what you love, because YOU love it and you can!