The NFL is sparking an investigation after player, Case Keenum, quarterback for the St. Louis Ram's, suffered from a concussion on the field and continued to play without medical attention.
Case Keenum's head slammed on the turf, he grabbed his helmet in pain, and laid there lifeless for a few seconds. With the help of a teammate, he struggled to pick himself up. Still stumbling and one minute left in the game, he returned to play. As the quarterback, he was too important, so he was never taken off the field or examined.
In a news conference yesterday, the Ram's coach Jeff Fisher said, "I saw Case go down, but I didn't see anything else take place. I didn't see him struggle to get up. I didn't see anything from my vantage point on the sideline as far as Case's slow recovery. The shot that you see where he got up slow that we've seen out there, I didn't see that. I was in the game management mode at that point, less than a minute left. That's where I was."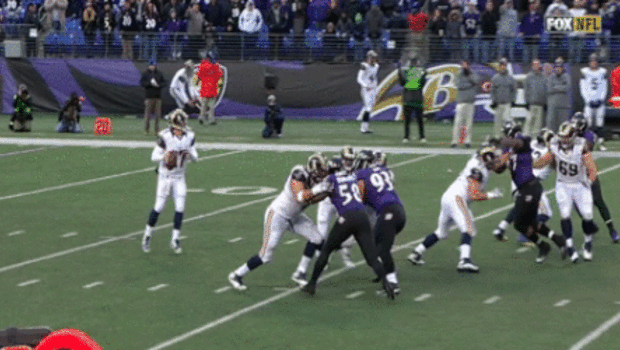 Amidst safety concerns and lawsuits in the the NFL, increased efforts to introduce safer protocols and concussion management techniques have been put in place to prevent these very situations from happening.
Under a new program started in 2011, a certified athletic trainer has the power to stop the game if they witness visual evidence that a player may have been concussed. Yet, this weekend the NFL concussion protocols skipped Keenum.
If this is how concussions are handled on a professional level, where there are fewer players, more money and more resources, think of what is happening on a youth, high school or college level, where there's no national spotlight. According to The Journal of Athletic Training, only 37% of the nation's public high schools are fortunate enough to have athletic trainers on the sidelines.
With these concerns in mind, there are organizations working hard to make a change in the culture of concussion. Our partners at Mom's Team recently worked with CDC to release a program called "Heads Up". Head's Up aims to promote safer tackling, concussion recognition and safety awareness. They've even released an app that helps you choose the right helmet and provide parents with more information about brain injury.
This year alone there were 6 deaths in high school football. These deaths are a wake up call that we need to change our protocols and have tangible strategies in place. With more and more people advocating and educating (parents, coaches, administrators, players and governing bodies), we can change this dangerous culture.