Female athletes have been participating in the Olympics for 116 years and for the second Olympics games in a row, the USA is sending more women than men. Yet, in 2016, the media still doesn't report on their achievements to the degree they deserve. The amount of sexist fails we've seen from media coverage in Rio hasn't exactly been subtle.
Women have been outstanding in the Olympics this year. They broke numerous world records and have shown outstanding effort and unparalleled excellence. American trap shooter and third time Olympian Corey Cogdell-Unrein won bronze. Her amazing achievement clearly didn't merit any recognition on its own, because The Chicago Tribune referenced her as the wife of her famous husband.
Wife of a Bears' lineman wins a bronze medal today in Rio Olympics https://t.co/kwZoGY0xAX pic.twitter.com/VZrjOvr80h

— Chicago Tribune (@chicagotribune) August 7, 2016
After Hungarian swimmer Katinka Hosszu won the gold and broke the world record in the 400 meter medley, NBC's panned the camera to her husband and referred to him as "the man responsible" for her epic win.
Female athletes are constantly being compared to male athletes. Katie Ledecky has been called the "female Michael Phelps ". Gymnast Simone Biles has been called "the Michael Jordan of gymnastics" and "the next Michael Phelps". In an interview, she defended her achievement as her own. "I'm not the next Usain Bolt or Michael Phelps," she said. "I'm the first Simone Biles."
A recent study from Cambridge University Press analyzed over 160 million words from tweets, blogs, newspapers and academic papers. In the context of sports, the study found that men are three times more likely to be mentioned than women.
They also found that men were more likely to be described by their physical abilities, such as strength and speed, while women were more likely to be described by their marital status, age or appearance.
Thanks to social media, news outlets are receiving some major backlash from the Twitterverse. In many cases, it has resulted in a formal apology. At least for public relations sake, we can hope they will change their future coverage.
On the positive side of things, there was a notable moment that one commentator got it right. After Katie Ledecky broke her own world record, NBC reporter, Rowdy Gaines said "A lot of people think she swims like a man. She swims like Katie Ledecky, for crying out loud." THANK YOU, NBC COMMENTATOR.
What is also unique and positive about this situation is that sexism is only coming from the news outlets. The one-sided attitude does not exist among the athletes. The best example of this in the relationship between Michael and Katie. They look up to each other, support each other and even swap autographs.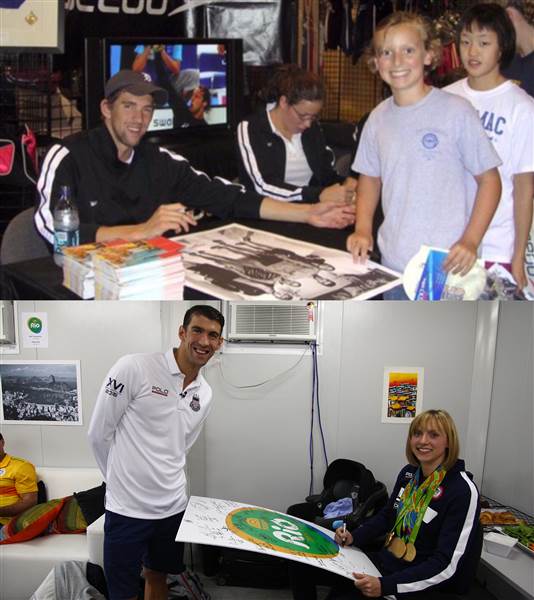 The point is not women over men. It's just athletes. Society is ready to move on, it's just the media that needs to catch up.