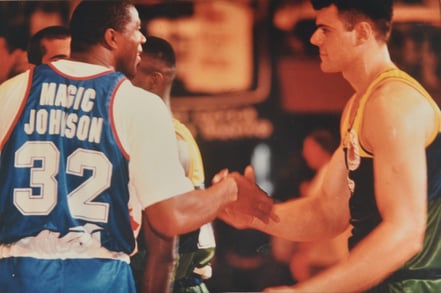 This week's trivia question was a tribute to a basketball icon and one of America's best basketball players of all time – Earvin "Magic" Johnson. Not only Magic Johnson was an awesome player, he grew up here in our home state of Michigan and played college basketball at State (@SpartyOn). Since we had such an exciting game this weekend between State and Michigan, we wanted to dedicate our trivia question to one of State's legendary players.
Earvin "Magic" Johnson earned his nickname from a sports writer for Lansing State Journalwho witnessed Johnson score 36 points, 18 rebounds, and 16 assists in a single game atEverett High School. In 1977, during his final high school year, Johnson led his school to the state championship, where they won the High School State title. Johnson graduated Everett High with two All-State selections and was named to the 1977 McDonald's All-American team.

While passionate about basketball since Junior High, Johnson didn't really see himself as a pro-ball player, and wanted to go to college to earn a degree in communications. After high school, he had some pretty good offers to play basketball in colleges all over the country, including UCLA, but he wanted to stay close to home. Ultimately he was choosing between University of Michigan and Michigan State University, and chose to play for State, because the coach offered him an opportunity to be a point guard. He helped the Spartans win the Big Ten Conference title in his first year and then NCAA title in the following year (1979).

Johnson left college after two years and was drafted first overall by the Los Angeles Lakers in 1979. So much for staying in Michigan! In his first season with The Lakers, Johnson "averaged 18.0 points, 7.7 rebounds, and 7.3 assists per game for the season, was selected to the NBA All-Rookie Team, and was named an NBA All-Star Game starter." (Wikipedia.Org) In 1980 The Lakers won the NBA Finals in Game 6 of the season, when Johnson stepped in as a center for an injured Kareem Abdul-Jabbar and played what is still regarded as one of the best games of all time. Johnson became the only rookie to win the NBA Finals MVP award and one of four players to win NCAA and NBA championships in consecutive years.

Magic Johnson continued his exciting basketball career until November 1991, when he retired from the Lakers. He moved on to create Magic Johnson Enterprises focusing on development of urban areas and franchising and in 1992 published the book 32 Ways to be a Champion in Business.

Thank you everyone for playing this week's Trivia and we'll look forward to giving away another guard next Tuesday.
the best sports mouthguard under the sun