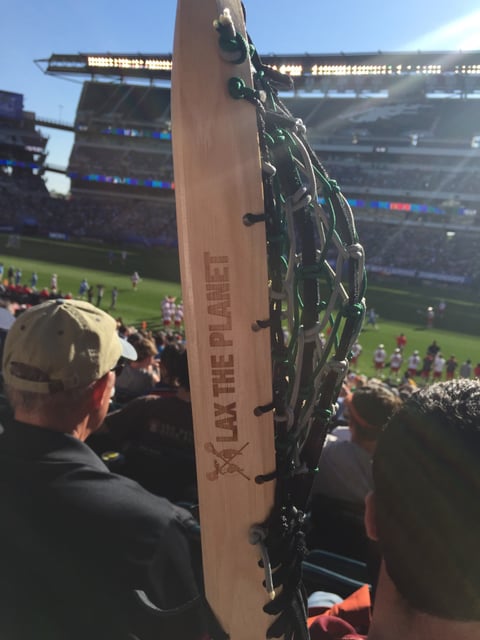 You guys and gals watched the games this weekend, I'm sure. But I know not everyone got to attend the fan fest or tailgate so I thought I would walk you through my time at the Lacrosse Final Four.
At 9am people were still setting up all the big tailgate tents around. The calm before the storm, for sure. If you have never been to the NCAA championship weekend I recommend you don't worry about lax balls or tennis balls hitting your car; it will happen. I couldn't wait to meet some Instagram (IG) friends in person.
As I'm walking in the first tent I came across was the @laxfmly tailgate. Tom could not be a nicer guy. We talked for a while about his brand and just general lax stuff. He welcomed me in and said I could hangout anytime. Also I got to meet Bill who makes @coasttocoastlax mesh. Another really durable mesh that seems to keep it shape well. Be sure to check it out! I left there and was heading over to the @universallax tent area to check out the Rabil Cuts. As I'm walking over I see the Thompson Brothers walking by. Got to shake hands with Lyle, Miles and their cousin Bill. Very cool guys and had a rockstar vibe. I arrived at the Rabil Cuts and watched some kids getting some crazy styles!
Universal Lacrosse has everything you need over in their tent area. Epoch, SISU Mouthguards, ECD, Odor Gladiator and Gait Lacrosse. Some of the best guys in their tent stringing up the new heads for you to buy. As I was walking around, this guy that I didn't think I know says "Hey I know that face". I was surprised to say the least. It turns out he is the guy who runs the @universallax IG account. Funny to be recognized, but very cool. Nice guy took me into the tent so I could catch up with @dealy44 or as I call him, Chris. Chris works for universal and is a great stringer to follow along on IG. I got to see the SISU mouth guards in action and it was crazy. The guy was wearing one while selling and he could talk perfectly! A must have, for sure. I ran into Jake drone Joule whom I know and he took menu onto meet the Joule Team. I got to meet the guys who run @lacrosse_times IG and those guys are friendly as can be.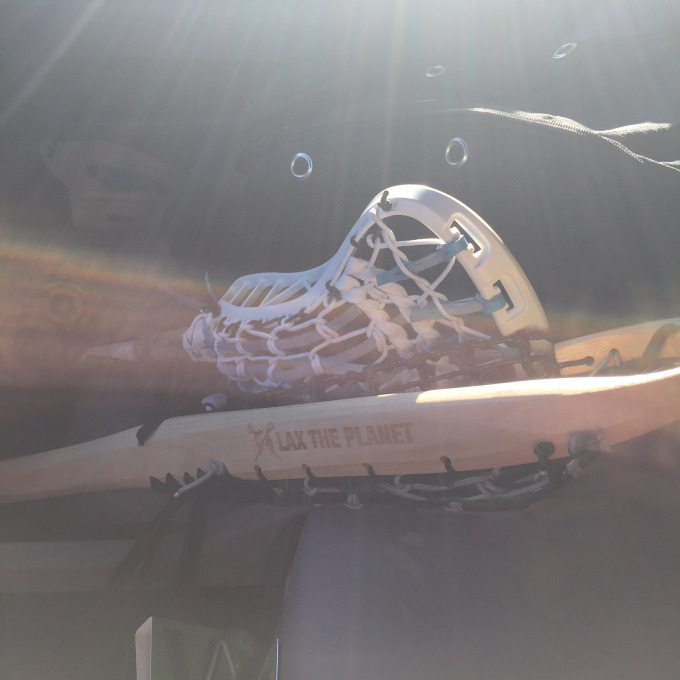 Now as I am wandering around chatting, folks, kids, and parents are looking at the Lax The Planet Traditional Lacrosse Woody. I was letting them hold it and cradle this amazing hand crafted stick. I had and still have coupons for free engraving that I will be passing out at various tourneys this summer. The lacrosse community is probably the friendliest bunch in the world. People checking out the Woody were offering me drinks and food; it was nuts. I, of course, had my trusty Swax Lax ball to let kids pass around with the Traditional Woody.
I knew of some friends that were going to be up so I made sure to meet them and hangout for a minute or two. I got to meet this kid who is one of the most dedicated players I have ever met and his dad. Justin (@jshock.18) and his dad, Keith (@datlaxdad19), are great people who love them some lax. Also finally after probably 2 years of talking on IG and Twitter I got to meet @longstick33. Ken is covering the D3 game for IL and is the authority on all things D3 and craft beer.
After talking to Ken, I ran into @6x6lacrosse, which is a new clothing company that was recently featured on IL Gear. Very cool designs that are great for everyday wear. Hoping to do more with them in the future.
After all of these adventures it was finally time to go watch some lax. So I ditched the backpack in the car and headed in. Woody and I sat with the @BLXLax guys, whom are big ND fans. Needless to say they weren't happy with the outcome.
Between games I was walking out and ran into Mac from @throneofstring and was invited over to their tailgate. Travis (@redbeard_lax) was there too. It was cool to hangout with them again. Joe, Chris, Mac and Travis are fun guys to talk to. I got to check out Joes personal stick with the new Throne Lite Mesh and I was impressed. This is coming from a guy who doesn't like to use mesh. Also, the new Throne Epoch shafts are crazy nice.
Then it was time to head in and watch the JHU vs UMD game. What a great game that was. I loved the rivalry between these teams. The crowd was yelling back and forth the whole game. Lots of settled offensive sets.
After a long and fun day at lax Final Four 2015, it was time to make the drive back to Maryland. I can't thank Traditional Lacrosse enough for the opportunity to represent them at the NCAA Semifinals. If your looking for a Woody of any style they have them. Can't wait to get back here next year and do it again. #LaxThePlanet
About Lax The Planet

Lax The Planet is a lacrosse focused blog written by a father/husband comitted to spreading his love of LAX around the world. For more recaps, reviews and all things LAX be sure to check out the LaxThePlanet (@proctorpac on IG/Twitter)